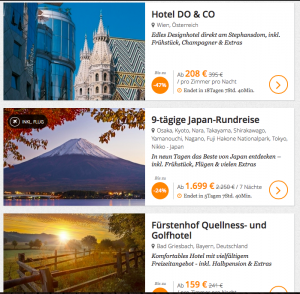 Recently, Kohlhepp Media Consultancy has started to advise the online travel agent Secret Escapes. The company will be assisted in finding new partners for the White Label solution in the German-speaking market.
Secret Escapes offers registered members access to exclusive hotel offers with up to 70% discount. The discounts, created by 4 to 5 star hotels, usually expire within five to twelve days. Secret Escapes seeks to negotiate highlights for its customers such as room-upgrades, a bottle of champagne, messsages and the like, so that the customers experience a memorable hotel stay.
For the first time, exclusive travels and hotel accommodations in Germany and worldwide are shown online and clearly arranged in a search window, also on smartphone-screens in a responsive design. Smartphone users can also stay up to date with the Secret Escapes app. Secret Escapes provides hotels and travel agents the opportunity to increase brand awareness, prestige and capacity.
Secret Escapes exists in Great Britain, Sweden, Germany, Austria, Switzerland, Denmark, Norway and the USA. Renowned titles, such as the travel magazine Condé Nast Traveller and the British newspapers The Telegraph and The Guardian, can be found among the partners of Secret Escapes. Since its foundation in January 2011 Secret has sold more than a million overnight stays of which 9 in 10 are booked by users on the website who spontaneously decide to travel. Secret Escapes has recruited more than 10 million members so far.